This is not your Grandma's dye book
This is a revised edition with starter palette recipes, step-by-step instructions for creating 67 kinship colors from three primary dyes, 115 pages, over 60 full color photos and illustrations. Professionally bound.
Palette Dyeing is a new concept in the rugger's world. In the past, we largely have had to be content to work with dyes that had no familial relationship with each other. We have dyed red wool using one formula, and then tried to match it to wool we had dyed using an entirely unrelated brown formula or a green formula dug out of scores of recipe books and dyeing manuals filling our shelves.
As an artist, this made me frustrated. I was never able to find all the colors and shades of wool I needed to bring my designs to life. So I decided to begin approaching my rug hooking from the point of view of a painter who mixes her entire palette of colors by combining three primary paints – a red, a yellow and a blue. By combining these three paints, all the colors imaginable are created, in all their values, tints, tones and shades. This process is not about taking pre-made red, yellow and blue straight from the packet and mixing them. The palette process is about creating your own unique formulas for the three 'primary' colors so that the result will be your own unique color palette of wool. Complete instructions with starter palette recipes are included.
THIS BOOK IS RETIRED.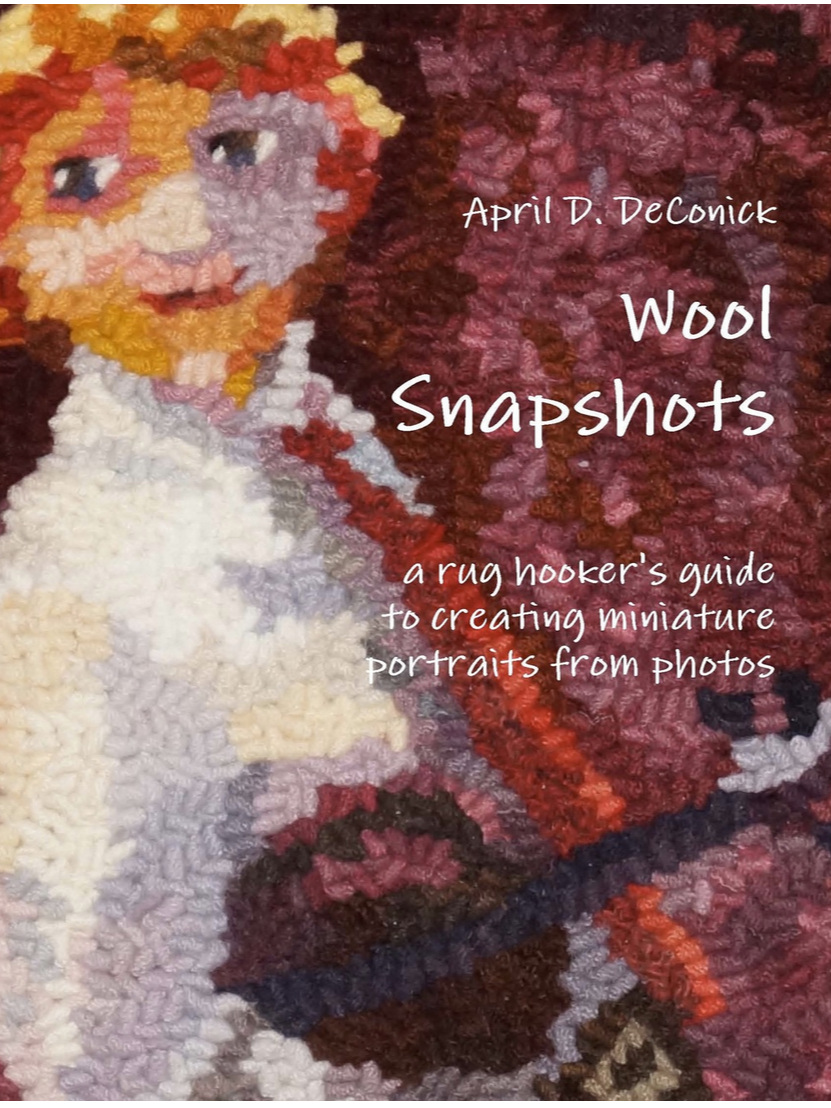 Learn about Zonalism
This is a step-by-step instructional book that shows you how to take your favorite photos and turn them into small hooked mats using 6-cut wool. Includes creative ideas for finishing and displaying your wool snapshots. 69-pages, 59 full color illustrations and photos. Professionally bound.
Zonalism is a technique that focuses on hooking the different value zones of the snapshot, instead of reproducing exact colors or trying to shade as Pearl McGown taught. Instead we will be juxtaposing light and dark values, and warm and cool colors to create impressionistic hooked snapshots.
I got the idea to create miniature portraits from snapshots when I realized one day just how many cut strips and wool scraps I had leftover from all my big hooked projects. Baskets and baskets of them. I was running out of space to store them. I needed some way to use up all this beautiful pre-cut wool. So I was inspired to try to fashion the leftovers into bitty portraits about 7" by 7".
Over time, I have worked out a process that results in stunning hooked miniature portraits, and it is this step-by-step process that I am sharing with you in this book. We will be learning about an impressionistic technique that I call Zonalism and applying it to snapshot-sized hooked pieces like those shown in My Snapshot Portrait Gallery at the back of this book.
To purchase, click the Lulu icon in the sidebar